Recently Added Hedgehogs For Sale
Before you purchase a hedgehog, please note, all purchases are non-refundable please read our Policies Page before making a purchase.
*Please note we are required to charge 7% sales tax on all hedgehog purchases.
Updated: 9/16/17 - We have many babies available but we are contacting our wait list for first pick. We will post available babies to the website once the wait listers have made their selections. If you're considering getting a hedgehog for Christmas, NOW IS THE TIME to get on our wait list for Christmas babies.
Like us on Facebook or sign-up for our waiting list below to be alerted to when we have more hedgehogs available. See scheduled litters for estimates on when new hedgehog babies are due.
Most hoglets are $250
Rehomes and Rescues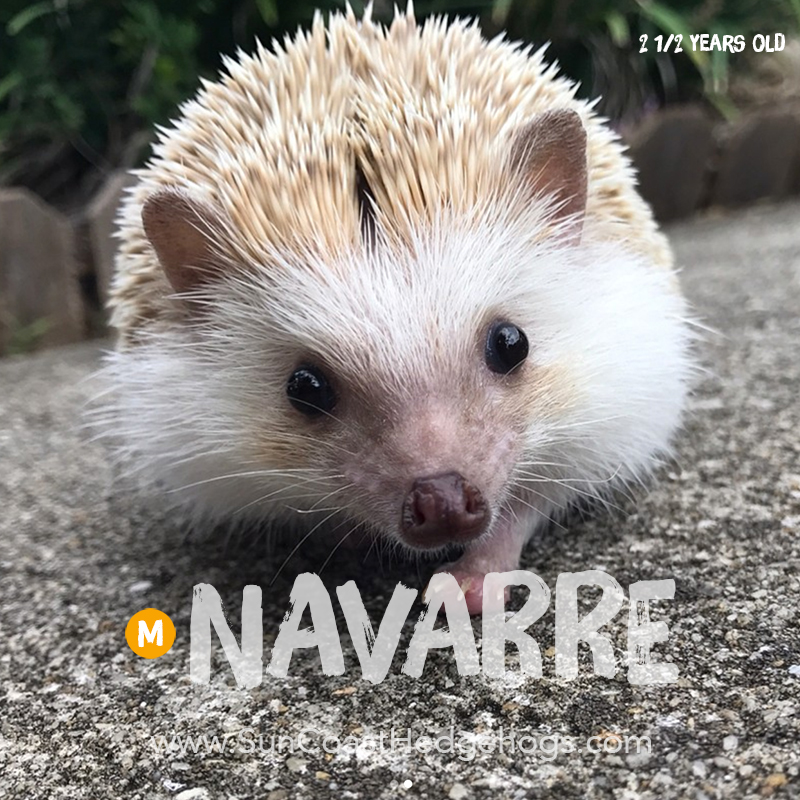 Price $135.00
See more photos and info...
Navarre
Ready to Go Home Now!
Male
Likely Color Cinnacot
Navarre is a beautiful, dark-eyed cinnacot who's very friendly and easy to handle.

Waiting List
Don't see a hedgehog you fancy? Or are we plum sold out? Get your name on one of our two wait lists to get sneak peaks at new baby hedgies before anyone else. Many babies are sold before ever being listed on this site, so we strongly encourage you to get on the waiting list if you are waiting for the perfect hedgehog baby.
VIP Waiting List
2 out of 5 Available
*Limit 5 people
Non-Refundable
The VIP waiting list are people waiting for very special colors or specific genders or who just want to see the new hoglets first. This list is capped at 5 people. New litters announcements are sent out a week early to all VIP Waiting List members. The fee for being on the VIP Wait list is applied to the purchase price of your selected hedgehog in full.
Waiting List
7 out of 10 Available
*Limit 10 people
Non-Refundable
The Sun Coast Hedgehogs waiting list members get first look at all new hoglets just one week after the VIP waiting list. This list is capped at 10 people. New litters announcements are sent out one week prior to being listed on this website. Waiting list fees are applied to the purchase price of your hedgehog of choice.